If you're looking for an addictive game, there are great countless Android games to choose from, and many of them are FREE!
If you have had trouble finding the perfect game for your taste, here are a few suggestions on some great android games that you can play.
For the best user experience, just make sure that your phone is updated and are using the best internet connection. If you are looking for a good internet provider, check out CenturyLink internet deals according to your need.
They provide great speed with the best customer support. With this sorted, let us get into the game's option.
1. Pokemon Go
Price: Free to play
One of the best games for Android is Pokemon Go. With over 632 million downloads, since it was released in 2016, it's one of the most popular mobile games of all time.
The game is so addictive that some users have been trespassing and also gotten injured while playing. The main addictive quality of Pokemon GO lies in the opportunity to escape reality. Whether you want to train a monster or hunt for a rare item, Pokemon GO is a great game for the Android platform.
2. Candy Crush Saga
Price: Free to play
Candy Crush Saga is still one of the most popular games. The game inspired by Bejeweled, packed with sugar and colors, made the small King Studio a giant of electronic games, thanks to its simplicity and unending opportunities.
3. Color Switch
Price: Free to play
Color Switch is an easy but difficult game that is a common element of several games on the list. You play with a ball that can cross circles and different geometric forms.
To play with them, you must make sure that the ball color matches the edge of these shapes using the help of tapping As you progress, the game's forms multiply along with the speeds of screens. It's a vivid and simple game. However, it is as complex as the other games as you progress through levels. It's also completely free.
4. Asphalt 9: Legends
Price: Free to play​
Asphalt 9: Legends is the latest series of racing arcade games. It is based on the same gameplay as its predecessors but with a few additional things. There are tons of vehicles to unlock, lots of levels and events to play, and a robust online multiplayer. The game is notable for its stunning graphics, easy mechanics, and addictive nature.
5. Genshin Impact
Price: Free to play
Genshin Impact is at the top of the highly competitive category for Gacha RPGs. The game features a vast world, a wide variety of characters that you can make, and it's enjoyable to play. It echoes many aspects from Zelda: Breath of the Wild, where you can explore the world in a vast open space and use a glider for long distances. Gacha based RPGs are a wildly well-known genre and many people find the practice of summoning characters addictive.
6. Levelhead
Price: $6.99
The game involves players delivering packages through absurd levels, and the humorous nature of the game makes it entertaining. Levelhead has 90 levels to play in the campaign mode and a level creator.
You can create your levels or download levels made by other players and you can play them as well. There are also leaderboards for runners, Google Play Games achievements, cross-platform compatibility, and cloud-based saving. The game itself is incredibly effortless, and it's easy to invest a significant amount of time playing without even thinking about it. It's also available for free through Google Play Pass if you are a subscriber.
7. Do not Tap The White Tile
Price: Free to play
The game mimics the piano keyboard, where you cannot use the black letters to create melodies. It's a classic, and it comes in various variations available on Google Play. It has a variety of modes, including Zen, rush, in batches, or the classic mode in which you need to jump as many keys as you can in a given period. It is among the most famous games on Android.
8. Pocket City
Price: Free / $4.99
Pocket City is another excellent simulation game. It is similar to Sim City. It's a way to create an entire city, build its infrastructure, keep everyone satisfied, and much more. Players construct the city in the right way, and it runs on its own, and a bad build​ creates a lot of difficulties. The game also supports landscape and portrait mode, offline gameplay, and other cool features. The game is a single purchase costing $4.99. However, there's also a free version.
It's as addictive as any strategy game can be.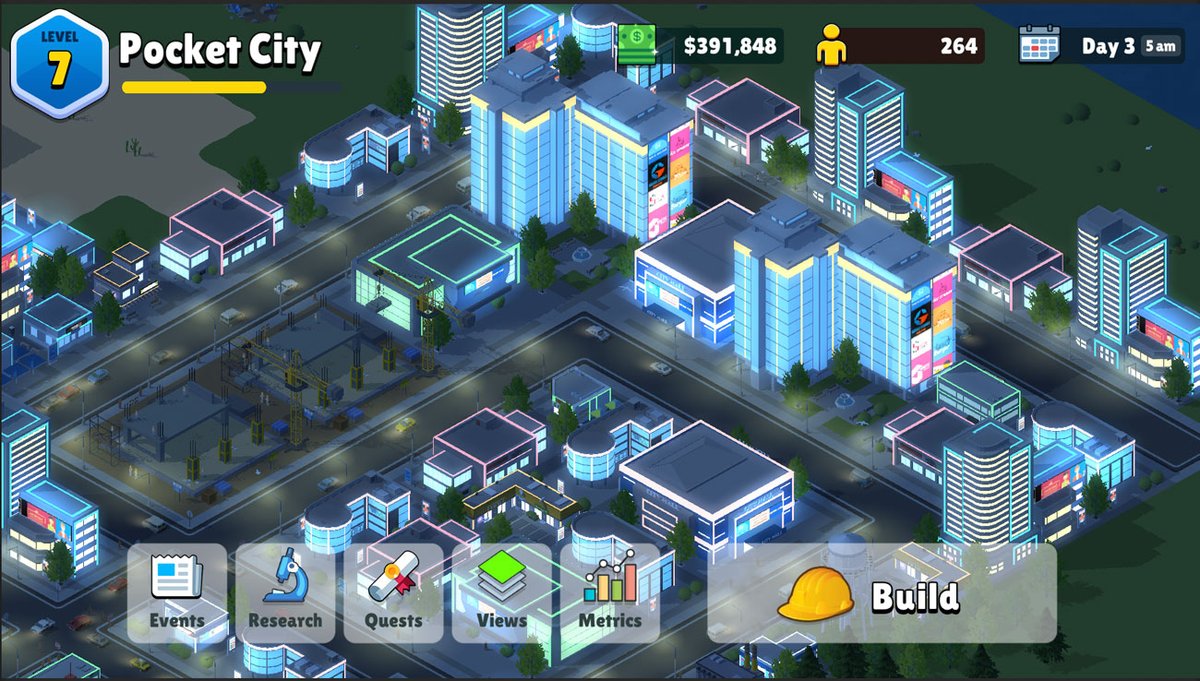 Conclusion
If you're looking for the most addictive and most challenging games on the market, you can try any of the above-stated games and they will keep you hooked for hours.